Crotone forward Nwankwo has welcomed Osimhen Napoli's moves as he set goals rivalry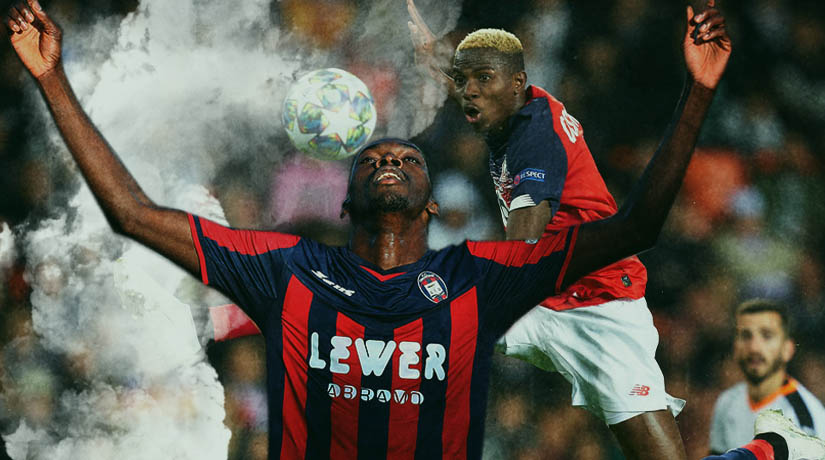 Nigerian and Napoli new signing Victor Osimhen has been in headlines and conversations as yet again his fellow Nigerian team-mate Simeon Nwankwo is eager to strengthen friendship and rivalry with him.
Currently, there are plenty of Nigerians international in the Italian top tier and all eyes will now be on Osimhen when the season returns, especially after his goals rush for the French club.
Nwankwo, who finished as the Serie B's season top-scorer with 20 goals, has revealed that he welcomes Osimhen's arrival in Serie A.
"I'm so happy that Victor is coming in. It is such a big team and an important and difficult league, if not the number one tactical and defensive league in the world," Nwankwo said.
Nwankwo opined that they will be in direct competition with his international team-mate for goals in the league.
"We will score more goals, united we stand. He will do it for Napoli and I will do it for Crotone," Nwankwo added.
The Crotone man did imply that he would be looking to score more than the 20 goals he collected this past season.
"Personally, I don't set goals. The only thing I set out for myself at the start of the season every year is just to do better than I did last time. So that means that next year will be more difficult for me because now I have to do better than I did this year," he said.
He continues to acknowledge the presents of his team-mates, Osimhen aside, there are also William Troost-Ekong, Ola Aina, and Victor Moses. Obi, whose Chievo Verna are involved in the promotion playoffs, could potentially return and add to that number.
"I'm glad now we're growing. When I came only Joel was here, with Orji Okonkwo also in Bologna, but not playing so much. Then we had a couple of lads in the Serie B. But now we are growing and I'm looking forward to meeting all the guys next year in the Serie A," Nwankwo said.
The Nigerian forward assert that plenty of Nigerians international in Italian Serie A will bring in more Nigerian viewers back to the league.
Relevant news