Manchester City vs Chelsea Preview and Prediction: UEFA Champions League Match on 29.05.2021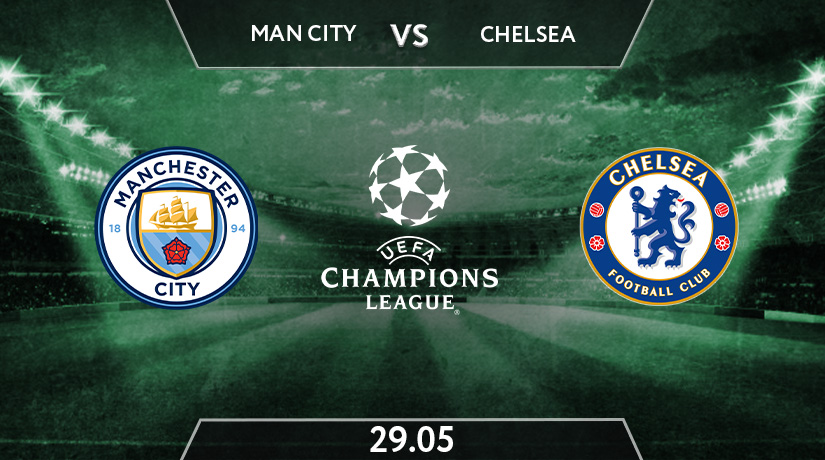 The second all English final in Champions League is bound to be staged this weekend. Two teams in blue color, The Citizens and The Blues are squaring off for the fourth times this season after two meetings in Premier League plus FA Cup semifinal. With three victories in the past three encounters, Guardiola's men need to be very careful against Chelsea's pressing tactical approach. Tuchel's side has the potential to deny Guardiola's men's ambition to clinch his first UCL title outside Barcelona.
Both teams' previous games
Manchester City's last game of Premier League last weekend was more on entertaining their fans who returned to Etihad after playing behind closed doors for a while. They hammered Everton 5-0 through the goals of Kevin de Bryune, Gabi Jesus, Phil Foden and Sergio Aguero's brace. The Argentine played his farewell game for The Citizens.
Chelsea, on the other hand, was stunned by 1-2 defeat while facing off Aston Villa last weekend. Bertrand Traore's deflected strike found the back of the net at the first half, while Anwar El-Ghazi doubled The Villans' lead by a penalty. The Blues had to rely on Ben Chillwell to score a lifeline.
Possible tactics
Pep Guardiola is believed to opt for his no-striker line up which can form a flexible formations from 4-3-3, 4-2-3-1 or 4-4-2 if necessary. Kevin de Bryune, Phil Foden, Bernardo Silva, Riyad Mahrez, are the four false-nine who might be prepared to face the battle in the midfield supported by Ilkay Gundogan and Rodri. The Citizen could be using more pragmatic approach by luring Tuchel's men to play the ball longer and push them out in the midfield only. That is when the false nine men will press them and win the ball for the swift counter attack.
Thomas Tuchel is still stick to 3-4-2-1 with the transition to 3-5-2. Unfortunately, two names might be ruled out for this fixture, NGolo Kante and possibly Eduoard Mendy. The German boss shall deploy Mateo Kovacic to deputise Kante. At the front, Timo Werner and Kai Havertz shall be paired up accompanied by the versatile Mason Mount.
Players to watch
Manchester City skipper, Kevin de Bryune is the top performer with nine goals and 16 assists in EPL and UCL this season. Another expected key figure in Guardiola's men are the youngster versatile Phil Foden who has registered three goals and assist each in the Champions League only.
In Chelsea, the two German forwards, Timo Werner and Kai Havertz seem to have found their new suitable role under Tuchel's command although they have not been prolific figure in the six yard box. In UCL, the former Leipzig man has netted four times and provided two assist while his 21-year old German false nine has not scored a single goal and only made two assists.
Manchester City vs Chelsea Prediction
It is always tough when it comes to place the bet on these two sides. Both have been developing their own tactical approach which could be the key element to win the game here. However, since this is the Champions League where tradition still stands, The Blues has the slightly better chance to clinch their second title.
Betting Odds
In this tight clash, Kevin de Bryune and Co's odds to win are at 19/20, Chelsea's win market is at 19/5
Relevant news