Manchester City vs Real Madrid Preview Prediction: UEFA Match on 07.08.2020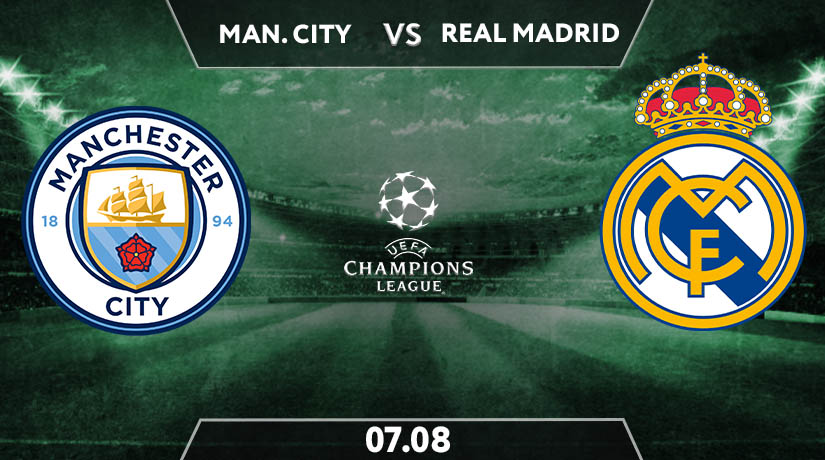 It's the biggest clash of the Champions League so far – the Citizens are defending a 2-1 lead from Madrid, but Los Blancos have all the confidence of the world after winning La Liga in a spectacular fashion.
Rising Hope at the Etihad
Ever since Pep Guardiola left Barcelona in the summer of 2012, there was a big elephant in the room when talking about the Spaniard – the Champions League trophy. The footballing genius never won the most prestigious European trophy since leaving Barca, and the critis are piling up year after year.
But, could this be the one?

Manchester City had a somewhat relaxed domestic season. They lost the league to Liverpool fairly early, meaning that they could fully focus on Europe. This showed as the Citizens beat Real Madrid 2-1 in a fantastic performance where goals from Gabriel Jesus and Kevin de Bruyne decided the winner in their favor.
Perhaps even more importantly, Manchester City showed character as they didn't put their heads down after going down 1-0. This used to be a constant problem in the past, but now they look ready to get over the hump. And what better way to do so than knocking out the synonym for the Champions League success that Real Madrid are.

Aside from Kun Aguero, Guardiola should have his A team ready to go, and Jesus already proved he can carry the goalscoring load when called upon.
Zidane's Magic and Hazard's Impulse
Real Madrid won La Liga in an uncharacteristic fashion. Rather than breaking goalscoring records and smashing everything in their path, this Los Blancos team was a different one – a unit ready to defend and strike only when neccessary, with Karim Benzema delivering the killing blow most of the time.

However, the Frenchman alone won't be enough against an opponent like Manchester City. Eden Hazard should be fully fit for the Champions League, and even though Vinicius already stunned with his great performances, the Belgian should get the starting spot at the right-wing.
With all of this in mind, Madrid won't have the luxury to sit back and wait because they have to overturn a deficit from the first leg. This puts them in an uncomfortable position, and Zidane will have to adapt his approach to go through to the quarter-finals.
Manchester City vs Real Madrid Prediction
It's no coincidence that Real Madrid won the Champions League three times in a row; they have an experienced group of world-class players who know how to win. However, with the absence of Sergio Ramos and Manchester City's undeniable ability and desire to win the Champions League, this looks to be their year.
Manchester City vs Real Madrid – 1
Make sure to bet on Manchester City vs Real Madrid with 22Bet!
Relevant news